From the ED: Letter about Employee Sexual Harassment Complaint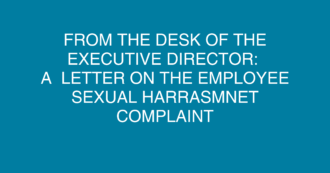 You may already be aware of this but last week a story broke on King 5 News that a sexual harassment complaint was made by an employee against a fellow colleague here at Casa Latina. News broke when some Casa Latina members organized a protest. In case you missed it, here is Casa Latina's public statement from last week.
Championing sexual harassment protections has been a core part of our work. However, we know that this does not make Casa Latina staff, our members, or our supporters immune to being perpetuators of sexual harassment.
In March a Casa Latina employee filed a sexual harassment complaint with HR against a colleague and peer at Casa Latina. Over the last week, two more individuals have come forward to file sexual harassment complaints against the same person. Because of the sensitive nature of this case and because of confidentiality policies in place to protect those who come forward to file a sexual harassment complaint, we can't share the details of the complaints.  However, we can share that there were findings and the employee who had the complaints against them is no longer employed at Casa Latina. When the first complaint was filed, offices were quietly reorganized so that the person who filed the complaint would not have to be in the same building as the person they filed a complaint against during the investigation. Once a finding was made, the person who had the complaint against them did not physically return to Casa Latina. 
Every worker deserves to be safe and every person is entitled to due process. At Casa Latina, a sexual harassment complaint can be filed with HR or any trusted staff person who can assist with filing the complaint to HR. Our unionized staff can also file a complaint with their union rep who will notify HR on their behalf. After a complaint is filed, a review committee is formed of myself and our two HR personnel. HR conducts interviews of parties involved and any witnesses. If a finding is made, the review committee decides on a disciplinary action with consultation with attorneys from Barnard Iglitzin & Lavitt LLP and Casa Latina's board members who are on our personnel committee. When a unionized employee is involved, OPEIU Local 8 are present during conversations involving disciplinary action.
Over the last week, I have attended listening meetings with Casa Latina members and staff to get their feedback. Some feedback we have received from members is that there is fear that members would face retaliation and lose their work opportunities if they come forward to file a complaint. We will be working hard to build stronger relationships between HR staff and our members, so HR staff is known among our members and seen as a resource. We will also implement new practices to ensure every member understands the different options for filing a complaint and to provide information about our anti-retaliation and whistle-blower policies.
I have committed to Casa Latina members to continue conversations with regular meetings and an open door policy to rebuild our trust and a feeling of safety. It's what every worker deserves.
If you have any questions or feedback, please feel free to reach to me via info@casa-latina.org.
In solidarity,
Marcos Martinez
Sign Up for Casa Latina News!
Let's create change together. Sign up to receive updates on Casa Latina's programs, action alerts, events, and opportunities for involvement.